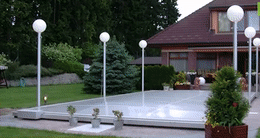 LOWO Sonnenlift
Unique roofing system for pools: we can roof a pool of any shape
 LOWO SONNENLIFT roofing – leaflet for download (3,48MB, pdf)
LOWO pool roofing is the unique system on the Czech market and manufactured in Germany.
Advantages of this type of roofing:
• remote controlled
• keeps water clean and hot in the pool
• longer swimming season
• suitable for any shape of pools
• ideal for gardens with limited space around the pool
• safe for kids and animals thanks to bearing capacity 90 kg/m2.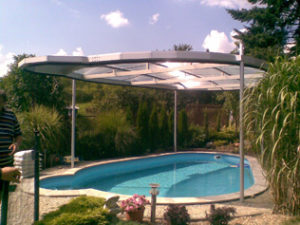 Easy handling (video reference)

Opening and closing of the pool is the matter of seconds. LOWO roofing system is remote controlled.
You don't have to bend, lift or move anything. Just press the button and the pool roof lifts up to 2.5 metres above the pool.
It does not take place, hinder, or limit you. Make sure yourself…
Why LOWO roofing?
longer swimming season
easy handling with a remote controller
customized production for pools of any shape
heating of water for free thanks to sunshine
prevents contamination of water
pool maintenance time saved
reduced use of chemical preparations
protects kids and animals before falling into water
reduced damage due to foul weather
LOWO simply saves time, environment, and money
From our customers
Hello,
let me send you a couple of the latest photos. Everything is under snow, we have too much snow here, about 70-75 cm. Just the masts still stick out the snow. It's great contrast of summer ease and winter peace. The roofing is really handy for winter.
Best regards Z.H. from the foothills of Krkonoše.
Once again thank you very much for smooth and quick construction; everything works just fine. We have to deal with tile finish to okay everything. Water has 39°C, it's great. We wish you many successes.
With best regards MK family, Central Bohemia Region
The water is 29°C now and clear like a crystal. The roofing is really unique, easy to operate, and elegant. I wrote the same to your colleagues in Germany.
S.G. Tuscany, Italy.